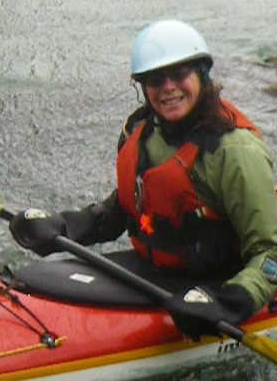 Andree Hurley
(206) 669-1622
Education:
The Henry M. Jackson School of International Studies, Trade and Investment Track, University of Washington, Bachelor of Arts, l987.
California Polytechnic State University, San Luis Obispo - Ornamental horticulture, landscape design, 1974 - l977
Leadership Seminar - Nine Week Course through the Cal Poly Outings Club - 1977. Followed by raft guide training on the Stanislaus.
United States Canoe and Kayak Olympic Coach Training Flatwater and Slalom Kayak, Chula Vista Training Center, 1996
Post graduate marketing seminar, University of Washington, l981.
Current

Real Estate Broker/Agent with Coldwell Banker Bain Lake Union

Instructor development and certification, beginning clinics in whitewater and sea kayaking.

Steven's Pass Ski School
Ski instructor
Past Work History
Website design
Past projects include Canoe and Kayak Magazine, Airporter Shuttle, Perception Kayak Company, City of Port Townsend.
Advertising Manager, Sea Kayaker magazine - Sold, built and laid-out ads, prepared billing. (Photoshop and Pagemaker) Increased circulation by developing products, coupons, and other written promotional materials. Designed and produced the media kit, order page and classified ad section. Developed a relational database project to run the department. Conducted and processed reader surveys for in-house and marketing purposes. One article (What to Wear), two covers (one of myself and one taken from an image I shot in the Padilla Bay area) 1990-1994.
The Northwest Outdoor Center - Sales, bookings of trips and kayaks; rentals. Taught evening bracing, rolling and paddling clinics, led tours around the San Juan Islands (including Guemes, Cypress, Shaw, Orcas, San Juan, Posey, Stewart, Jones, Lopez, Turn). Whitewater courses on the Snoqualamie, Skykomish 1984-1989
The World Affairs Council - Created itineraries for visiting dignitaries with local professionals. Summer, 1988.
The Henry M. Jackson Foundation - Internship involving conference planning, fund raising.1985, 1986 and 1988.
The Peace Corps - Work study office position in Seattle. Organized packages for interested applicants. January - June, l986.
The Henry M. Jackson School of International Studies - Work study. Assistant to David Cordell, Director of Student Services. Published bulletins for seminars, speakers, internships, employment and fellowships. l984 - 1985.
Certifications, present and past:
Emergency Medical Technician, King County - Basic, expires 2013
King County EMS Evaluator, 2012
American Canoe Association Instructor Trainer Certification Whitewater Kayaking (Through Nantahala Outdoor Center, 2004)
American Canoe Association Instructor Certification Update for whitewater 1997 (Phil and Mary DeReimer), 2003 Gordon Black, 2004 Jimmy Holcomb.
American Canoe Association Instructor Trainer Certification Coastal Kayaking (with instructors from the University of Minnesota at Diluth, 1998)
Swiftwater Rescue Technician 1, Rescue International, 2004, 2010 - current
Health Care Assistant, State of WA, Expired 02-05-05
Certification - ropes course facilitator (Adventure Experiences, Inc/Peninsula College, Port Angeles - 2003
American Canoe Association Instructor Certification, Coastal Kayaking, 1994
American Canoe Association (ACA) whitewater instructor (Jackson, Wyoming) certification. 1990
Other
Outdoor programing 1978 - present.
Sea kayak guide and instructor, whitewater instruction, river rafting guide.
Staff and instructor training. Tongass Kayak Company, Manhattan Kayak Company, REI, Agua Verde Paddle Club, and employees from Northwest Outdoor Center, Olympic Outdoor Center, Outdoor Adventures.
Beginning to instructor training for Washington clubs such as the Mountaineers, Washington Kayak Club, and Boeing recreational club.
Lakeside School Outdoor Program - led seven day Outward Bound based leadership courses on the South Puget Sound, San Juans and Barkely Sound, 7 day whitewater courses on the Deschutes, John Day rafting and whitewater. (1986-1997)
Paddling South - three winters in Baja, ten-day, fully self-supported sea kayak expeditions from Mulege to Agua Verde. Groups included organizations such as REI Adventures and Woman Trek (1987-1990)
Perception, Inc - Organized a national workshop schedule 1996: Coaching Kayaking Kids, workshops oriented toward coaches and teachers in camps, schools and other recreation programs. Dealer training clinics, including ACA instructor development and certification in coastal kayaking (Florida, Virginia, Oregon, South Carolina).
Assisted whitewater Instructor Certification Exam at Camp Carolina, led one ICE through Western Washingtion University. 1996-7
References and letters of recommendation are available.
River rafting and kayaking (1978-1997)
Outings Club, Cal Poly. After completing a nine week leadership course, rafting training in oar-frame rafts commenced on the Stanislaus (now covered by water!). (1977)
Guided for Orion Expeditions (1980-1984), Zig Zag (1985-1986), River Riders . Guide trainer for Zig Zag and River Riders. Worked intensively on Washington rivers. (1987 - 1997)
Trained with Grand Canyon Dories on the Snake and the Lower Salmon (1986).
Wilderness training with Lakeside School. Outward Bound based program for private high school on the Deschutes, Lower Salmon, John Day, Grande Ronde. Rafting and kayak training. (1988 - 1997)
Worked the Rogue River for Northwest Outdoor Centers and ARTA. Rafting and kayaking. (1985-1987).
Outward Bound (taught leadership course on Deschutes River)
River Trips: 2 private trips - eighteen and twenty-four day Colorado River (rowed the second with a friend), several Rogue, Deschutes, John Day, Middle Fork Salmon, Lower Salmon
Sea Kayak - Baja and mainland Mexico (Gulf of Mexico), New Zealand, Belize, Chile, Bolivia, China.
Solo Kayak Journeys: Baja 1997, Lower Futaleufu River/Lago Yelcho to the Coast (northern Patagonia, Chile) 1993, La Conte Glacier 2004
OTHER
Washington Kayak Club board member - 2007
Board Member American Canoe Association and Washington Kayak Club
Northwest Divisional Instructional Facilitator ACA 2004-2010
Member King Country Search and Rescue - 2012
Board Member and Treasuer, Trade Association of Paddlesports - 2003
Emergency Medical Technician - 2000 - present
Member Port Townsend Fire Department, Firefighter, EMT - 1999 - 2007
Mayors Committee for Tourism, City of Bellingham, 10/96 - 3/97
Past board member: Washington State Parks Safety Council (representative for manually powered boats, 1995-1998), Trade Association of Sea Kayaking (1992-1999), and Washington Washington Water Trails (1995-1999), King County Search and Rescue. (Organized a weekend conference for 70 for WWTA which included a dinner, dance, live auction and two kayak paddles.)
Past Committee member: West Coast Sea Kayak Symposium (850 attendees) mid-eighties, Paddle Fest (retailer driven event, 500 attendees).
International Travel: Mexico, Guatemala (including Tikal), Belize, Yucatan, Barbados, New Zealand, Costa Rica, Chile, Bolivia, Hong Kong.
Languages: Functional Spanish and French.
ahurley@viewit.com

American Canoe Association Specific

American Canoe Association Certified instructor trainer for coastal and whitewater kayaking (present)
1989 Whitewater kayak certification, Jackson Hole, Wyoming
1994 Organized the first Coastal kayak IDW and ICE Deception Pass with Jeff and Kathy from Maine. Certified at Coastal Kayaking
1998 Through Perception organized and led two series of IDW and ICEs with Tim Bates from the Outdoor Program at University of Minnesota, Duluth.
1998 Trained with ITE for Whitewater Scott Coulter at Camp Carolina and on the Methow River (assisting then leading)
1999 Co-taught an IDW/ICE with John Lull and Randy Carlson
2000 – 2004 Coastal Kayak Committee, paddled Alcatraz and surfed off Lull's shop
2003-2007 Attended the Whitewater Symposiums (Zoar Outdoors in Deerfield, MA, Glenwood Hot Springs, Colorado, and Lotus, California). Attended clinics with Mary DeReimer, Eric Jackson, Sam Drevo and others.
2004 - Coastal Kayak Update with Deb Volturno and company.
2006 – Received IT in whitewater from Jimmy Holcomb and Wayne Dickert at the Nantahala Outdoor Center in North Carolina
2008 – Received ITE in coastal kayaking, endorsed by Ben Lowry

Certification Course Areas
Deception Pass, WA - La Push, WA - Neah Bay, WA - Crescent Beach - FL - Bonita Springs - FL - Arcata, CA - Hong Kong and Sai Kung, China - Queretaro and Tampico, Mexico